Table of Contents
1. Introduction: Why Your Supply Chain Needs Data Analytics

2. Optimise Your Organisation's Entire Distribution Strategy

3. Ensure a Speedy, Agile and Cost-Effective Global Logistics Process

4. Consolidate, Integrate and Analyse Data from Disparate Sources

5. Future-Proof Operations Through Proactive Risk Management

6. Achieve Superior Demand Estimation Using Forecasting Models

7. Manage Inventory Across Distribution Centres and Sales Channels

8. Implement Better Inventory Management at the Local Level

9. Conclusion: Working with the Right Data Analytics Provider



Introduction: Why Your Supply Chain Needs Data Analytics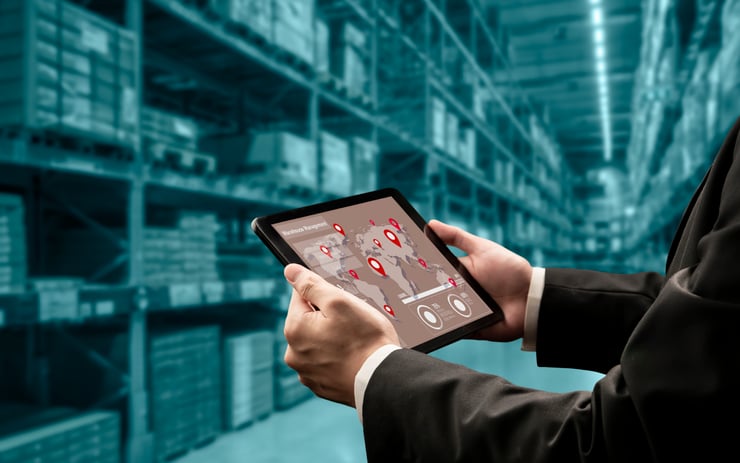 What's all the fuss about the supply chain? Regardless of how you get your daily news, you'll be hard pressed not to find at least one report bemoaning the latest supply chain crisis facing global companies today.
Concerns about the supply chain have been dominating the headlines for much of the past two years. Covid-19 lockdowns and quarantine orders have had an outsized impact on worldwide supply chains: be it by causing labour shortages, forcing manufacturing shutdowns, interrupting the flow of goods or altering customer demand.
But other factors have mattered, too. As highlighted in a report by The Economist Intelligence Unit and GEP, cyberattacks, commodity pricing fluctuations and diverging regulations have all played a role. Extreme weather events are becoming more prevalent. And there are untimely freak incidents, such as when the Ever Given cargo ship got stuck in the Suez Canal, holding up an estimated 3.3 million tonnes of cargo per hour at a total cost of nearly US$60 billion in trade.
All of this has made the supply chain one of the most critical areas for businesses to address in order to ensure their commercial success in this competitive climate.
Current and future supply chain challenges
The impact of the supply chain on a company's overall fortunes can't be overstated. According to the aforementioned study by The Economist Intelligence Unit and GEP, supply chain disruptions cost businesses up to US$4 trillion in losses in 2020.
Similar trends have been observed by McKinsey & Company, which reported that supply chain problems cost the average organisation 45% of one year's profits over the course of a decade. And when it comes to impact, there's no discrimination. These issues affect companies of all sizes, across a myriad of industries and throughout the world.
Crossing your fingers that your organisation can ride it out, and that all will be back to normal once Covid-19 is over? Unfortunately, we don't have great news for you. McKinsey & Company forecasts that supply chain challenges will be a regular occurrence. According to them, companies can expect supply chain disruptions lasting a month or longer to happen every 3.7 years, with the most serious events taking a major financial toll.
As a case in point, the current Ukrainian crisis – which probably seemed to be an unlikely event just a few months ago – has greatly exacerbated existing pandemic-related supply chain challenges, as reported by Forbes. Besides the various sanctions, energy shortages, humanitarian crisis and overall climate of uncertainty, companies must be prepared to face the disruption of trade routes, increased freight costs and a shortage of critical raw materials.
To ensure that your supply chain remains robust, resilient and ready to tackle current and future challenges, you can take the necessary steps to improve visibility, attain flexibility and optimise your operations across the board.
How data analytics can mitigate supply chain disruptions
Advanced data analytics has become one of the most important tools leveraged by businesses to optimise their supply chains. When applied in the appropriate manner, it provides crucial end-to-end visibility of the entire process and allows you to simulate the impacts of different possible scenarios – thereby letting your organisation better prepare for a range of potential disruptions. Furthermore, it can help you optimise your supply chain to achieve specific business objectives and KPIs.
At its core, data analytics involves the collection, integration and processing of disparate data to achieve greater visibility and granular insights. By using the latest cutting-edge solutions that include data mining, machine learning, graph AI and predictive analytics, you can remove guesswork and enable your organisation to make business-critical, profit-optimising decisions with greater clarity, confidence and speed.
Leading global companies have embraced advanced data analytics to transform their supply chains. According to Mordor Intelligence, the worldwide supply chain big data analytics market – which was valued at US$3.55 billion in 2020 – is expected to reach US$9.28 billion by 2026, notching a CAGR of roughly 17.3% between 2021 and 2026.
What's more, McKinsey & Company asserts that adopting an assortment of digital-first, data-defined technologies such as advanced data analytics can help companies reduce operational costs associated with the supply chain by up to 30% in the next two to three years, while significantly increasing agility.
Instead of taking a wait-and-see approach, time is of the essence when it comes to incorporating data analytics. With the proper systems and solutions in place, your company will be ideally positioned to withstand supply chain disruptions without experiencing a potentially devastating impact on your bottom line.
Ready to find out more? Here's our definitive guide to how data-driven solutions can empower you to
achieve a more flexible, resilient and optimised supply chain that's well-prepared to tackle a host of challenges – both now and long into the future.
Optimise Your Organisation's Entire Distribution Strategy
One of the most critical aspects of the supply chain is your distribution strategy. Get it right, and you'll be well on your way to minimising costs, increasing revenues and enjoying better profits. Get it wrong,
and it can quickly drag down your bottom line.
The distribution stage is made up of a complex network of interconnected aspects that span multiple countries, regions and platforms. These include – but aren't just restricted to – accurately determining demand across distinct sales portals; ensuring that products are delivered on time and in a cost-effective fashion; and factoring in variables such as periods of high or low demand, supply constraints and the expansion of distribution channels.
To effectively coordinate these components and gain the necessary insights to facilitate a resilient and effective distribution strategy, you'll need data analytics.
For starters, data analytics lets you consolidate the disparate data regarding your supply chain into a single, centralised database. You can use dashboard tools to present this information in a digital, interactive and easy-to-read way, which helps promote greater transparency. Having this end-to-end visibility is crucial to achieving better control of your supply chain and provides the foundation to make profit-optimising calls.
Once all the data is integrated, you can process it using the relevant AI and machine-learning technology, such as predictive analytics and scenario-based planning. These generate analytics-based insights that can be leveraged to propel effective distribution strategies that yield positive business outcomes.
This was the approach employed by an international fruit supplier that needed to optimise its product distribution. Given the many uncertainties of doing business during a global pandemic, it wanted to obtain data-driven insights to help it prepare realistic distribution, marketing-mix and supply-related strategies for its five major markets in the Asia-Pacific region. It worked with a data analytics provider to come up with a solution that forecasted the impact of Covid-19 in a range of markets on consumer behaviour.
The provider consolidated internal and external data into a central database, and applied scenario-based planning methods to predict different recovery scenarios and the resulting consumer demand. It also developed a strategic operational dashboard that summarised the key drivers, with up-to-date data for each market. This let users track the progression of various factors across time periods and into the future, and gave the fruit supplier that all-important visibility for better monitoring and forecasting.
Using this knowledge, the fruit supplier could then allocate supply accordingly to maximise revenues, thus achieving greater agility and flexibility in terms of its distribution strategy. It also reported having more comprehensive and strategic planning capabilities to tackle potential future supply chain issues.
Ensure a Speedy, Agile and Cost-Effective Global Logistics Process
Gone are the days when it required many months to transport raw materials from the supplier to your manufacturing plant, or when sending a package from the distribution centre to a customer took at least a few weeks. Major advancements in technology and infrastructure have allowed these processes to occur at a much faster pace – and in a reliable and cost-effective way – thereby empowering businesses to scale up their operations accordingly.
However, recent challenges have deeply impacted supply chain logistics. As reported by KPMG, the flow of consumer goods into key markets has been hampered by the continued shutdowns of major global ports and airports due to Covid-19. This has had a ripple effect around the world – creating bottlenecks, restricting trade flows and hindering the ability of businesses to import products and replenish inventory stocks. The result? Higher freight costs, longer delivery times and other serious disruptions.
Clearly, companies must find a way to contend with these hurdles, and to better manage the vast array of components involved in moving items around the globe. Thankfully, data analytics – specifically, solutions built on graph theory – offers a particularly compelling solution to tackling these issues and achieving greater speed, agility and cost savings.
But what is graph analytics, and how does it work? Put simply, graphs represent any network of relationships in a mathematical way. Hence, a supply chain graph will plot suppliers, transport providers, warehouses, components, services and products as a series of vertices and edges. Analysts can use these graphs to generate a digital twin and track the parts throughout their life cycles – from raw materials to final destination.
Currently, most organisations don't use graphs to scrutinise their supply chain resilience, and instead employ more rudimentary tools. Some depend on ERP systems, or choose to harness simple spreadsheets contained within departmental silos. Others may enlist the services of data scientists to extract insights from multiple repositories. While this is a more sophisticated approach, it's still not fully up to the task of modelling the sheer complexity and interlinked nature of a modern supply chain.
A far more superior solution is graph analytics. It works by garnering data from various sources, which is then consolidated, processed and modelled with graph-based algorithms to explore relationships between connected entities and reveal hidden insights into close-knit networks. In short, it maps out the different, interconnected aspects of your supply chain, and uses these diagrams to model scenarios, create simulations and investigate possible impacts and outcomes.
With graph analytics, you can get answers to complex questions and make more informed, data-driven decisions regarding your supply chain. For instance, when it comes to figuring out the ideal route and transport type based on costs, availability and timing, the software can help you determine how the shortage of a specific raw material will affect production; the trade-offs and impacts of taking alternate routes; if you should use ships with different cargo capacities or air freight for certain products; the repercussions of border closures; and how quickly you can adapt to a rise in demand in one region and a fall in another.
Using this knowledge, you can proceed to optimise your logistics from vendors to ports based on the route availability and TEU options; from ports to distribution centres based on the footprint and individual needs of each distribution centre and transportation options available; and from distribution centres to order fulfilment based on actual demand, channel mix and delivery options.
Additionally, graphs can do much more than simply plot the potential impact of supply chain disruptions, which makes them a versatile tool to have in your arsenal. For instance, you can use graphs to make your logistics networks more resilient over time – be it through implementing systems that make it easier to switch to shipping more profitable items, or using alternative transportation methods in the event that your usual route becomes blocked or unreliable.
Consolidate, Integrate and Analyse Data from Disparate Sources
Businesses possess a wealth of internal data pertaining to their supply chains: everything from the length of time it takes to move products from one place to another based on the route and transportation type; to the costs incurred at each stage of the process; to customers' purchasing habits across different sales channels.
But without the correct infrastructure, your company may lack the proper data environment to carry out advanced analytics. For instance, if you haven't established the appropriate data pipeline, your sprawling mass of data will remain disorganised and siloed, rather than integrated – especially if you've yet to fully digitise your operations. You may also not have ready access to external data that can help generate better, in-depth and more holistic insights, which can subsequently be used to improve your bottom line.
Using the right tools, you can establish the ideal data foundation to empower your business with granular, predictive and meaningful insights.
For starters, you can leverage data engineering to create a seamless and mature data infrastructure – one that automatically consolidates your data from different sources into an integrated repository – and all in a speedy and cost-effective manner. This enables you to achieve consistent access to fresh and relevant data for increased control and visibility of your supply chain.
Furthermore, to complement the existing data derived from internal sources, you can use various data tools to harness and inject relevant third-party data. This externally sourced information can include the likes of web-scraping content, social-media activity, weather forecasts, location data and even satellite imagery.
This is particularly useful if your organisation doesn't possess sufficient internal data to achieve the comprehensive level of visibility you require, as the third-party data can supplement your existing data to significantly improve the accuracy and reach of forecasts gleaned from AI-driven predictive-modelling tools.
Once all the data is consolidated and integrated, AI, machine learning and advanced analytics techniques can then be used to create scenarios, simulate different impacts, predict future outcomes and optimise logistics and inventory.
By adopting this approach, you can make better, more confident decisions to implement mitigation strategies to contend with disruptions and attain a more resilient supply chain.
Future-Proof Operations Through Proactive Risk Management
The Covid-19 pandemic has had a devastating impact on worldwide supply chains, and has exposed their vulnerabilities. If you're hoping to wait it out or reckon that things are sure to improve soon with the worst of the pandemic seemingly behind us, think again.
Analysts and industry leaders aren't anticipating a return to supply chain normalcy in 2022. And, looking ahead, chances are that it'll only be a matter of time before the next catastrophic global event occurs.
You can take forward-thinking, proactive measures now to future-proof your operations with proactive risk management. This can be achieved by mobilising data analytics to help you attain the visibility, flexibility and resiliency you need to better prepare for potential disruptions.
With data analytics, you can leverage AI-driven predictive-modelling tools to conduct what-if analysis throughout your supply chain. This works by collecting relevant data and entering it into a sophisticated forecasting model. At this stage, you can draw on scenario-based planning to simulate and quantify possible impacts based on a range of conditions.
Scenario-based planning models work by letting you set and adjust parameters to account for a wide array of potential conditions and possible unanticipated events – instead of just drawing conclusions from historical patterns. They can thus provide you with more accurate simulations to make long-term decisions with greater confidence. This gives you an edge over only using historical data, which is comparatively limited in its forecasting ability, and is also beneficial if there is insufficient historical data available.
The data is all centralised, which offers an end-to-end view of your supply chain for optimal monitoring and management. Such an approach gives enhanced visibility into the different layers and components – including the deeper levels. This is a crucial precursor to effective risk management, as many of the most pressing supply shortages happen at these deeper tiers.
Companies that have used data analytics in this manner include Amazon. As reported by CNBC, it was able to contend with supply chain woes by harnessing predictive analytics to forecast the impact of possible disruptions. This allowed it to plan well ahead for various scenarios months before its competitors, and added agility and flexibility to its operations.
There's also the clothing company Levi Strauss, which used AI-driven predictive-modelling tools to run disaster forecasting and guide operational decisions during Covid-19. And it was a success, with the retailer beating estimates for its 2021 third and fourth-quarter earnings. "Our supply chain really is a source of competitive advantage," Chip Bergh, its president and CEO, told CNBC. "We can move product around with a lot of agility… We've been running the business against different scenarios for the last 18 months."
Indeed, no one can predict when the next global pandemic will occur. But with predictive analytics, you can forecast the impact of potential future disruptions, identify weaknesses and vulnerabilities, explore optimal remedial actions and devise ideal mitigation measures – so that your supply chain is able to confront the challenges ahead.
Achieve Superior Demand Estimation Using Forecasting Models
Want to optimise your operations for maximum profitability? Then you'll need to accurately match customer demand with what you're producing – one of the central tenets of running an efficient and streamlined supply chain.
The good news is that you already have a plethora of information related to this: from country-specific demand figures; to your most popular products; to demand spanning diverse sales channels. But to derive reliable, granular and actionable insights, you'll need advanced analytics to help you integrate and analyse this data in the right way.
Specifically, you can leverage predictive analytics, which is central for optimising supply and demand planning. The software works by complementing internal data with external information, and applying the appropriate solutions – which are based on AI and machine-learning technologies – to forecast demand through predictive modelling and scenario-based planning.
How exactly does AI-driven forecasting differ from traditional methods? For starters, instead of merely reacting to changing demand conditions, the software is capable of anticipating these fluctuations – which allows you to respond with far greater quickness and agility. Traditional forecasting models also require for data to be manually updated and adjusted for, which further slows down the process – unlike fully automated and comparatively speedy AI-driven tools.
Indeed, according to McKinsey & Company, applying AI-driven forecasting methods to supply chain management can bring down errors by up to 50%, which translates into a reduction in lost sales and product unavailability of up to 65%.
Using the AI-driven forecasting software, you can analyse demand data to identify patterns in sales, shipments and customer preferences; predict demand for specific products and services; probe sales data to anticipate future trends; and prepare your supply chain for upcoming periods of high demand.
Take the case of a fashion retailer that wanted to obtain demand forecasts to help its global and regional planning groups guide manufacturing, supply chain and merchandising decisions. It called on a data analytics provider to devise a solution to predict demand at the product-code level for the 12-month period following the project's inception.
Working closely with the retailer's digital product, merchandise planning and data science divisions located in different international markets, the provider developed a versatile methodology to solve the client's multiple needs for demand estimation.
First, the provider consolidated the company's sprawling array of siloed, disparate and fragmented data – which prevented full and effective modelling – and integrated it into a single repository to inform the model and forecasts. This gave the retailer's planning teams across divisions and regions access to consistent data – as well as the same body of information and metrics – for their respective demand-estimation projects.
Then, using historical data and machine-learning techniques, a model was created to predict future demand for individual product codes.
Initial applications for the solution included generating global demand predictions that the retailer could use to better prepare its supply chain for the upcoming season; and creating monthly demand forecasts and sell-out predictions at the regional level for thousands of individual product codes.
To augment trust in the software, planners were able to view the process steps, variables and weighting factors driving the forecasts. They had the option to override a prediction and, once it was changed, measure the accuracy of the changed prediction. The model could also be updated at any time, and findings could be continuously recalculated to reflect changes in business conditions or inputs.
By adopting the solution and incorporating it into a front-end application, the company's planners could use it to project demand for up to 12-month time horizons. The retailer is currently innovating with the tool to apply it for new use cases, and is using it to predict demand at the channel tier – such as e-commerce or standalone stores – in one of its regional markets. It also aims to harness the software for long-term financial planning.
Manage Inventory Across Distribution Centres and Sales Channels
Distribution centres are the essential bridge between producing goods at your manufacturing hubs and getting them into the hands of customers. But, as recently reported by The New York Times, warehouse space is becoming increasingly scarce in the United States as retailers and logistics companies stockpile goods to hedge against supply chain slowdowns.
Other regions are facing a similar crisis. According to an article by the BBC, the current vacancy rate of warehouses in Asia is around 3%, which represents a historic low. Given that warehouse space is in such high demand – and fetching increasingly elevated prices – it's critical to maximise the use of your distribution centres by managing inventory appropriately. To do so, you can employ data analytics.
Advanced data analytics – coupled with automation and IoT software – can provide the real-time, end-to-end visibility and insights you need to streamline operations within your distribution centres. You can draw on predictive maintenance to anticipate and prevent
potential equipment malfunctions; and use data tools to monitor the condition of goods and ensure that they're being stored in the correct way.
Crucially, predictive analytics can also furnish you with important insights into supply and demand dynamics. This is attained by leveraging predictive modelling and what-if analysis to find out how product and operational variables will affect supply and demand, and to forecast estimated demand for particular products.
These demand figures can be used to ascertain the ideal amount and assortment of products to store within your individual distribution centres around the world. This can ensure that you'll have the right mix of inventory to quickly fulfil multi-channel orders from customers, and can help you maximise profits by reducing your inventory of low-demand products and preventing the depletion of high-demand product stocks.
Beyond distribution centres, predictive analytics enables retailers to optimise inventory allocation across different sales platforms: be it brick-and-mortar stores, third-party outfits or e-commerce websites.
Such an approach was taken by a top-tier telecommunications company in Germany. By drawing on an automated demand-forecasting model devised by a data analytics provider, it was able to generate granular sales forecasts up to six months in advance, and with 80% accuracy. This allowed it to better allocate inventory of its mobile handsets, which increased the sell-through rate by 18%.
Implement Better Inventory Management at the Local Level
Much of the focus on supply chain disruptions has been at the global tier: think dealing with congested international shipping ports; analysing how manufacturing issues in China affect companies in the United States; and coping with fluctuating demand across different regions and markets.
This, of course, makes sense. Given that we live in a globalised world where cross-border operations are intimately connected, such macro problems inevitably impact how supply chains function within individual countries, cities and communities.
Besides doing all that you can to achieve better resiliency and flexibility on a global scale, it's equally important to optimise your supply chain locally. Thankfully, the same advanced analytical tools can be used for both purposes.
Take the case of a bike-share company that wanted to improve its inventory management and station planning within a single city. The operator already had access to large amounts of data gleaned from its bicycle fleet and docking stations, which provided real-time visibility on customer trips and the availability of vehicles at any station.
To leverage this information to make better day-to-day operational decisions, the business enlisted a data analytics provider to help it gain an understanding of the following facets: using bike movements to manage inventory for separate stations; user segmentation in terms of usage patterns; and user behaviour regarding typical journeys and trips taken.
The provider developed an appropriate solution to forecast the frequency of inflows and outflows of bikes at distinct stations using historical data concerning days of the week, weather and location.
This empowered the bike-share company to answer key questions such as the expected inflow and outflow for any station based on the day of the week and the time of day; which stations needed to be resupplied or would reach maximum capacity within the next two hours; the optimal location for an additional bicycle station in the network; the most popular routes; and the average riding time for each route.
After receiving the necessary insights, the operator could confidently make profit-optimising decisions regarding its local supply chain. For instance, by identifying any oversupply and over-demand in advance, the system allowed the company to relocate bikes more effectively, and ensure that demand could be met by rerouting excess supplies to the stations where they were required.
Conclusion: Working with the Right Data Analytics Provider
Do you want to attain an optimised and resilient supply chain that's well-prepared to tackle current and future disruptions? To do so, you'll have to unleash the power of big data and advanced analytics by working with the right partner.
The ideal data analytics provider can help you implement solutions that are tailored to your distinctive business needs, and offer top-quality tools gleaned from a comprehensive arsenal of the latest technologies. They will have an established history of helping companies transform their operations and enhance their commercial performance. And they can ensure that all data is processed in the appropriate manner, while complying with global regulatory, confidentiality and data-protection laws.
Lynx Analytics is that reliable and trusted partner. Founded in 2010, the Singapore-headquartered company – which offers both consulting and software services – has a wealth of expertise obtained through many years of deploying advanced analytics solutions. Its worldwide team boasts a strong technical background, as well as deep domain expertise and far-reaching knowledge of different business contexts.
It is a leader in advanced AI and data science solutions, and specialises in predictive analytics models that incorporate cutting-edge AI and machine-learning techniques. This includes LynxKite, a graph tool that allows users to visualise and map out different aspects of their supply chains to gain crucial insights that simply weren't possible before.
Lynx Analytics empowers leading global companies across a myriad of industries – including retail, life sciences, banking and telecommunications – to garner better data-driven insights, forecast future trends and optimise their operations. Instead of adopting a cookie-cutter, one-size-fits-all approach, its solutions are unique and highly customised for each individual client – and can be put into action immediately.
Ready to revolutionise your supply chain with data analytics? Contact us to find out more about how Lynx Analytics can future-proof your supply chain and set your business up for long-term success.