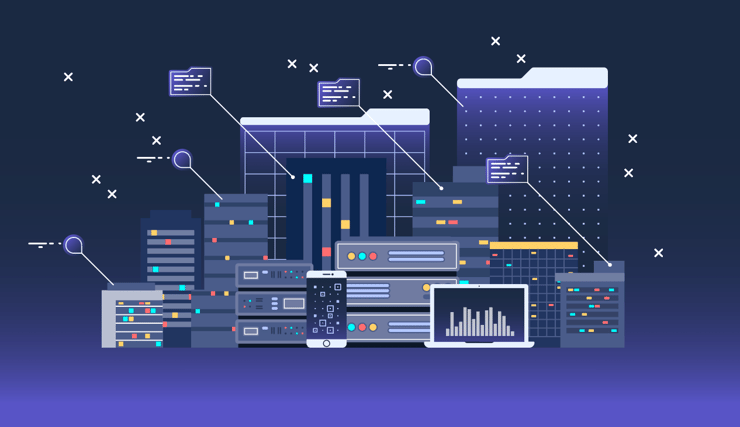 To take full advantage of advanced data analytics and AI solutions, it's essential for life sciences companies to first establish the right data infrastructure. Here's how Lynx Analytics partnered with a leading global pharmaceutical company to overhaul its legacy data systems, thereby empowering it to improve its customer engagement and optimise its commercial agenda.
---
Advanced data analytics and AI solutions can have a radical effect on improving the commercial operations of life sciences companies. For instance, they can help organisations to identify high-potential healthcare providers (HCPs) based on online behaviour; gain a better and more comprehensive understanding of their customers; and using forecasting methods to run targeted, seamless omnichannel campaigns.
But to implement these tools, businesses first need to get the basics right: by organising, streamlining and syncing their disparate data into an integrated system. Once companies have established this strong foundation, they can then proceed to empower their commercial and medical teams with the necessary resources and data-driven insights to optimise their efforts.
Why good data infrastructure is crucial for advanced data analytics and AI solutions
Many pharmaceutical companies maintain their data – which can include commercial figures, CRM statistics, customer records and survey results – across a range of disparate, siloed and complex systems that cannot be easily integrated. Hence, in order to attain greater efficiency and results, they will first need to transform their legacy data infrastructure.
This was the case for a leading global pharmaceutical firm that sought to improve customer engagement in its Japanese market. It wanted to empower its commercial and medical teams with applications to make their customer interactions more intelligent, proactive and efficient – but its existing data infrastructure was not set up for this.
To help the company achieve its aims, Lynx Analytics collaborated with them to overhaul their existing data infrastructure. The new, tailored system – completed within four months of the project's inception – allowed them to seamlessly integrate previously disparate data sources.
This empowered the firm to streamline important business processes and commercial tasks: such as automating HCP profiling activities; monitoring end-to-end customer engagement and commercial KPIs; and designing and executing harmonised omnichannel campaigns.
Transforming a global pharmaceutical company's legacy data infrastructure
As with many traditional systems, the global pharmaceutical company's data – gleaned from internal and external sources – was siloed and held in a range of often-incompatible formats. It was therefore challenging to combine this information to guide sales, automate processes, generate insights or apply analytics to inform forecasts.
Devising the best strategy to transform the company's data infrastructure required a deep dive into its systems. This process revealed key synergies between data sources that could help to facilitate data sharing. Throughout the entire process, Lynx Analytics also took care to adhere to and integrate the necessary compliance requirements and cater to various business sensitivities – such as the need to separate medical and commercial data for compliance purposes.
Based on these findings, Lynx Analytics evaluated the commercial opportunities that could arise from using an integrated, master database. After identifying 10 strategic use cases and presenting them to company stakeholders, the partners decided to develop an application for the merging of multi-channel information and reporting automation – a high-value opportunity that would deliver commercial benefits quickly. Lynx Analytics then performed the necessary engineering to build the data infrastructure and application, as well as onboard the data.
Besides tackling this initial use case, the system would also support the remaining use cases: such as increasing sales by employing advanced data analytics and AI solutions to profile HCPs and tailor commercial strategies accordingly; better targeting customers by capturing relevant smartphone data; and predicting changes in product demand by tracking online discussions of patients and doctors.
To facilitate this, Lynx Analytics worked closely with the client to devise detailed road maps for the future implementation of each of these opportunities.
Wide-ranging benefits of the new data infrastructure
With the new system, the company was able to achieve its objectives of merging multi-channel information and reporting automation. By integrating a vast amount of data from previously disparate sources, the system gave the company the ability to generate new and deeper insights, respond to changes quickly and improve its commercial performance.
Take monthly multi-channel reports, which are crucial to obtaining a better understanding of customer engagement across platforms. Previously, production of each report required three weeks of cross-team coordination and manually merging over 30 files from different sources.
But with the new data infrastructure and application, the relevant data could be integrated into a single environment. This facilitated the automated production of an aggregated report, reducing the three-week process to just 10 minutes.
In addition to dramatically improving productivity, the system set the foundation for deploying other applications for the company to obtain key insights that simply weren't possible before. These include more accurate and granular information about customer preferences, as well as metrics revealing the impact of specific marketing efforts.
Indeed, transforming their data infrastructure is that all-important first step for organisations to unlock the possibilities of advanced data analytics and AI solutions. Once the data has been integrated into a holistic, seamless and easy-to-use system, businesses can then proceed to draw on cutting-edge digital applications to achieve data-driven insights – which can help to power better customer engagement and drive commercial success.