The COVID-19 pandemic has had wide-reaching effects on the world's economy. Although the telecom industry has managed to weather the storm, it has seen a major change in usage habits and a decrease in consumer spending power.
Moving forward, we believe the key for the telecom industry is to analyze these changes and to focus on how services can be adapted to retain a competitive advantage. To achieve this, it is crucial for operators to recalibrate their analytics efforts, specifically with respect to pricing strategies.
Tectonic shifts: how COVID-19 is affecting the telecom industry
Lockdowns, reduced social activity, and work-from-home (WFH) policies have all meant worldwide consumption has moved away from workplace, retail, and recreational settings to a residential setting. This trend began in early 2020 and is still very much the case in most of the world. As a result, there has been a reduction in mobile data usage as more people rely on their home internet connections.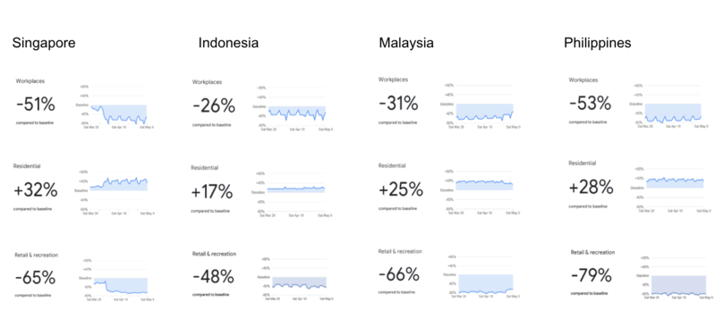 Source: Google COVID-19 Community Mobility Report
In parallel, there has been an increase in consumption of at-home entertainment such as streaming services and online gaming.
Another significant result of COVID-19 is the marked rise in business closures and unemployment worldwide. This has had a clear effect on some consumers' price sensitivity as their spending power is reduced, which has led to customers looking for more cost-effective services.
Most of these changes will likely remain for some time and, in some cases, might simply become the new normal.
5G: The wildcard
The introduction of 5G services in the middle of these shifts in demand represents an opportunity for operators, but there are many potential traps. According to a recent report by Analysys Mason, the pandemic will likely weaken demand from consumers and businesses alike, but it will also open the door to new use cases such as Fixed Wireless Access and Augmented Reality/Virtual Reality. Therefore, it is up to operators to use 5G as a growth engine to counter the negative economic impact of the pandemic. But it is a difficult balancing act: new 5G services must be compelling enough for consumers to pay a premium; and 5G network rollouts have to be planned as a function of new demand patterns to maximize ROI and positive cash flow. A typical "build it and they will come" approach is too risky in the current market conditions.
Rethinking of pricing strategy
Amid these fundamental changes in consumption patterns and the introduction of a game-changing technology, pricing plays a key role. And the ability to measure price sensitivity for different customer segments is the basis of an optimal pricing strategy.
Here are the basic steps operators should take to adapt their pricing strategy considering the COVID-19 pandemic:
Review customer segmentation based on:
Data volume

Applications used

Usage patterns in terms of location and time
At a minimum, operators will want to create new segments for those residential users that look and behave more like enterprise customers. In other words, expect SOHO look-alike segments to emerge and grow!
Design "affordable" bundles & offers to cater to segments that have become more price sensitive, while avoiding cannibalization of existing bundles.




Keep an eye on spending power / affordability for your offers relative to your segments. Consider the use of micro-credit for those customers most at risk of churning that have a high lifetime value.




Monitor closely competitor pricing. This is always an important aspect to guide pricing decisions, but it is especially relevant now as all operators are facing market upheavals and trying to adapt quickly to the new situation.




Test different discount levels through digital sales channels using A/B testing, especially if you face restrictions for staffing in call centers and physical outlets. This is a good opportunity to grow and accelerate the proportion of e-commerce sales.



How can Lynx Analytics help?
Lynx Analytics has over a decade of experience supporting telecoms providers all over the world. We have extensive experience in developing segmentation models for pre-paid and post-paid markets to improve take up rates and revenues. Lynx Analytics has also developed many price-elasticity models for the telecom and retail sectors to optimize pricing, promotions and discounts. We have also developed numerous models to help operators optimize Customer Lifetime Value, especially in the context of network upgrades and new technology roll out, such as 5G.
Our intuitive, tailored, and uniquely insightful analytics solutions help providers better understand usage patterns, forecast upcoming changes before they happen, and appreciate the specifics of consumer behavior on a deeper level than ever before.
To learn more about our transformational analytics services and products, get in touch with our team today.