Prefer watching a video of a Webinar instead? Here it is!
When was the last time you went to a retail store? With lockdown measures across the globe resulting in physical stores being closed for weeks and even months on end, it's no surprise that retail footfall and revenues have fallen dramatically in 2020. Although e-commerce has seen growth, it hasn't fully made up for the drop in activity, resulting in the retail industry experiencing one of the toughest periods on record. Many retailers are looking at a long road to recovery, and there are many factors to consider along the way.
In a recent illuminating survey done by Global Blue, some of retailers' top concerns were revealed:

One of the most interesting findings of the survey was that over half (53%) of retailers were concerned with digital transformation.
These results clearly indicate that retailers across the globe not only have a proactive outlook for future recovery, but they are also still looking for ways to use technology and data to improve their businesses, highlighting the growing influence of technologies for retail..
Analytics has become one of the most important pillars for retailers' digital transformation efforts. If you are a retailer you are probably using some form of analytics to support assortment planning, price optimization, promotions and so on. But unfortunately, analytics is still underutilized across retail. It was revealed in a recent Forbes survey that 93% of retailers recognize big data as a priority for their businesses, but just 50% actively utilize it.
In this article, we will look at how retailers can leverage analytics to gain insights into consumers, adapt to the new circumstances, and recover as quickly as possible.
LynxSights: Analytics Software to Help Retailers Recover
In today's difficult economic climate, retailers are focused on understanding how customer preferences have shifted. LynxSights can provide you with a detailed picture of their customers so they can target them more effectively and predict future trends.
By using a combination of internal data from retailers and 3rd party aggregated smartphone GPS data, you can gain a deep understanding of your existing and your potential customers.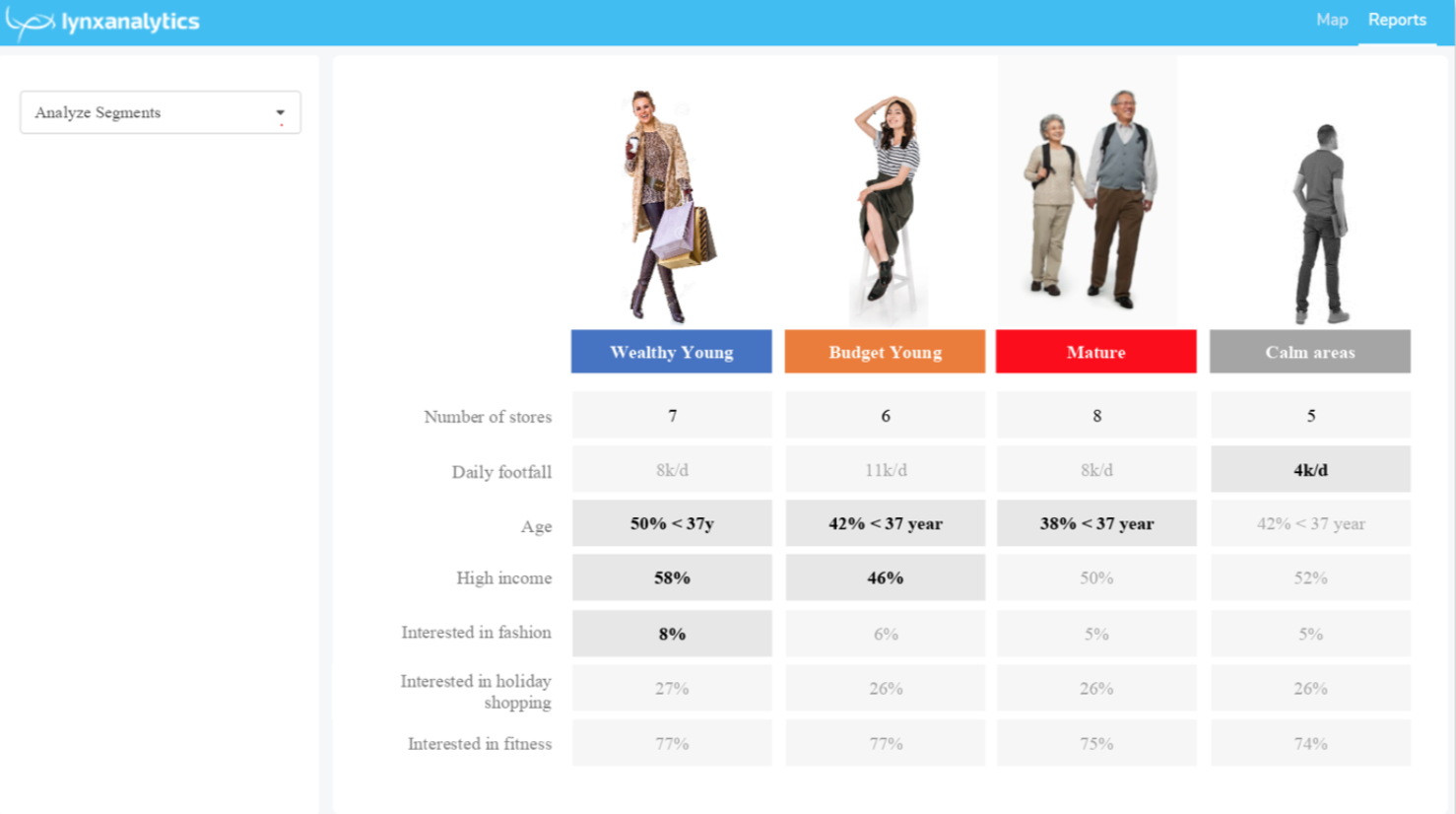 You can view customer demographic, sociographic, and psychographic data broken down by geographical areas, down to within meters of individual stores. Get information such as age, gender, income levels, and interests for the population in and around any of your stores.
You can spot if there are any trends in store visits you could capitalize on. For example, if customers between the ages of 18 and 30 with a higher income level are visiting a particular store at a particular time, you could create targeted time-based promotions for them to boost sales.
Compare demographics across different stores
Comparing sales potential and performance across stores can be tricky; no two stores are alike and location plays a critical role. LynxSights allows users to easily compare customer demographic, sociographic and psychographic attributes across multiple stores to understand the true potential of each store.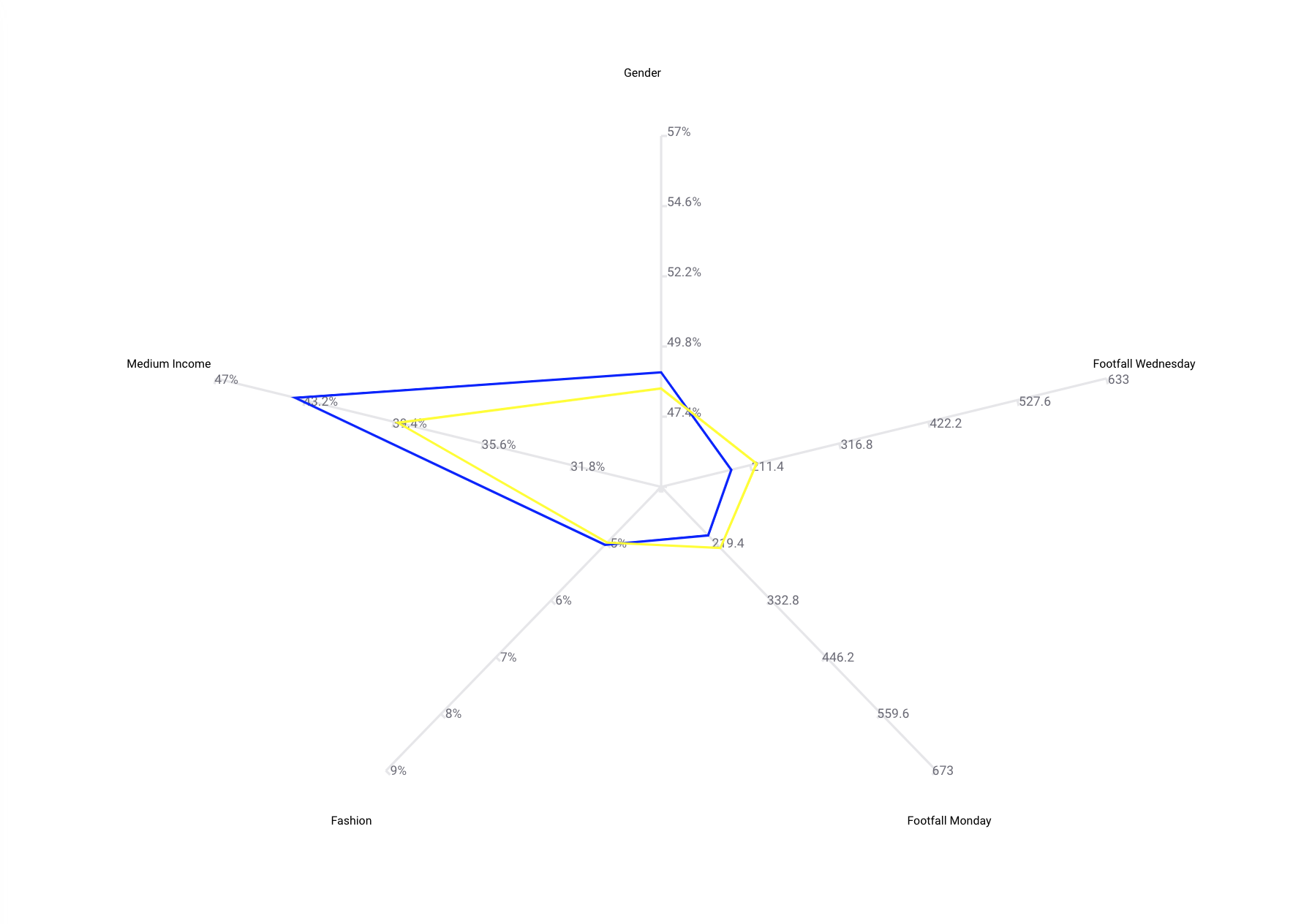 These insights will help you maintain efficient stock, create an appropriate mix of products, optimize pricing, and maximize sales on a store-specific basis.
Compare insights over time
LynxSights also allows you to compare data over time. This is very important in the context of COVID-19 where any upward or downward trend can be an important leading indicator for the future. By visualizing metrics over time, such as footfall in areas surrounding your stores, you can predict future performance and adjust your merchandising tactics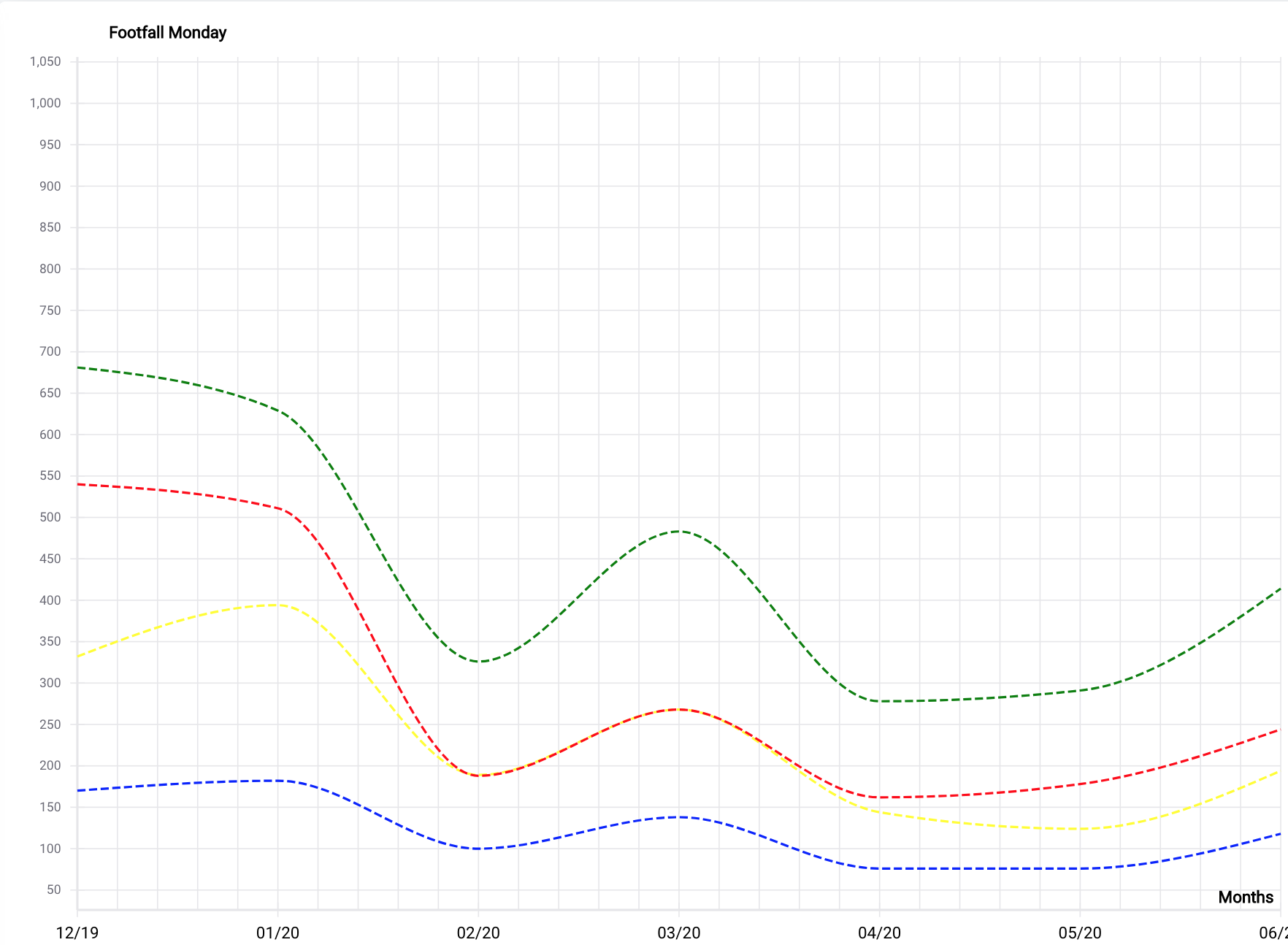 100% tailored insights
LynxSights is completely tailored to your business. By using an innovative combination of 3rd party aggregated data and your internal company data, we offer uniquely insightful and highly targeted insights that can be put into action immediately.
Data is critical to the future of retail
There's no doubt that retailers across the globe are going through difficult times, but there are very promising signs of recovery judging by the amount of footfall returning to highstreets and a steady rise in retail revenues.
One of the best ways that retail businesses can capitalize on this recovery period is to harness the power of analytics with a product like LynxSights to track, understand, and predict the behavior of consumers. LynxSights' powerful and targeted insights are the perfect way to stay informed in this changing economic climate and ensure a speedy recovery in the coming months.
Get in touch with our retail analytics experts to find out how LynxSights can help your business recover faster.