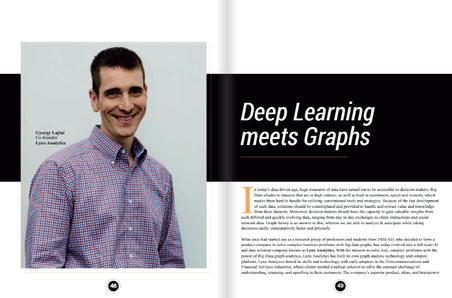 In today's data-driven age, huge measures of data have turned out to be accessible to decision-makers. Big Data alludes to datasets that are in high volume, as well as high in assortment, speed, and veracity, which makes them hard to handle for utilizing conventional tools and strategies. Because of the fast development of such data, solutions should be contemplated and provided to handle and extract value and knowledge from these datasets. Moreover, decision makers should have the capacity to gain valuable insights from such differed and quickly evolving data, ranging from day-to-day exchanges to client interactions and social network data. Graph theory is an answer to this, wherein we are able to analyze & anticipate while taking decisions easily, comparatively faster and precisely.
What once had started out as a research group of professors and students from INSEAD, who decided to form a product company to solve complex business problems with big data graphs, has today evolved into a full-scale AI and data solution company known as Lynx Analytics. With the mission to solve real, complex problems with the power of Big Data graph analytics, Lynx Analytics has built its own graph analytic technology and solution platform. Lynx Analytics honed its skills and technology with early adopters in the Telecommunications and Financial Services industries, where clients needed a radical solution to solve the constant challenge of understanding, retaining, and upselling to their customers. The company's superior product, ideas, and brainpower helped them achieve profitable, organic growth ever since the start of the company in 2012.
"We started Lynx Analytics in 2010 to test out our ideas of applying graph theory to solve business problems. We saw that businesses had massive amounts of information but were not able to draw actionable insights on how to drive their business forward. This was when we decided to develop a technology that could serve this purpose," shares Gyorgy Lajtai, Co-founder of Lynx Analytics.
Power and Scalability at its best
At its core, Lynx Analytics is a graph analytics and solutions company. By the word graph, they do not refer to data charts like pie or bar charts. Neither, are they developing data visualization software like Tableau or Power BI. Lynx Analytics' definition of "graph" comes from the mathematical graph theory, which is the study of connected data points and structure of networks. PageRank, an internet search algorithm made famous by Google, is a perfect example of this. "What we have done at Lynx Analytics is to take the idea of graph theory and apply modern big data technology and techniques to it. To answer your question about industry standards, our software is built on Apache Spark for its power and scalability. But it doesn't stop there. We think what makes us unique is that we commercialize our technology by building an entire solution with real-world use cases around it. We do this by working closely with our B2B clients, such as communication service providers, and pioneering innovative solutions based on big graphs. Our Customer Happiness Index solution is a great example of this," Gyorgy adds.
Moreover, Lynx's Customer Happiness Index is helping its clients reduce churn and grow ARPU (average revenue per user). One of its clients experienced a significant drop in churn rate – from 1.3 to 1.1%, which translated to millions of USD in revenue savings. With CHI, Lynx's clients are able to narrow down specifically on customers that matter, in areas that matter to them. Not to forget, Lynx' CHI is also constantly improving over time with machine learning; so over time as more data is collected, the company can deliver more accuracy in findings and recommendations.
The frontrunner leading the wave
The Chief Executive Officer of Lynx Analytics and Member of the Board is Gyorgy, who co-founded Lynx Analytics. Before founding Lynx Analytics, Gyorgy worked on CRM challenges, including marketing automation and systems. As a launch customer for Oracle's cloud-based marketing solution, he helped INSEAD develop a new analytics-driven marketing and sales methodology to maintain its global number one position in executive education. Prior to INSEAD, Gyorgy co-owned GreenerOne, a Silicon Valley based online crowdsourced eco-rating company.
Earlier in his career, he worked on CRM and product management for GE Capital, including Eastern Europe's first mobile payment linked a credit card with T-Mobile. Gyorgy holds an MBA from INSEAD and a Bachelor of Arts in Business Studies from the Oxford Brookes.
Technology that solves real business problems
Gyorgy believes that as an industry, Big Data solutions are commoditizing rapidly. This is true in so many ways. According to him, cloud computing and storage are becoming more affordable and accessible. Hadoop provides a standardized framework to support data analytics at a scale of billions. Meanwhile, there will be more and more publically available data services, including open source libraries. Companies are increasingly building their own data departments and mandating data collection, protection, and analysis as a business requirement.
"At Lynx Analytics we see ourselves as a solutions company. We want to be one of the first graph companies to build end-to-end solutions that solve real business problems, particular in the nature of customer engagement and enlightenment. In some ways we see ourselves as a hybrid between analytic software vendor and management consulting company. That really is what is unique about our business," exclaims Gyorgy.
Reliable data security solutions that work
Lynx Analytics offers clients a comprehensive portfolio of security solutions to ensure personal data privacy, protection against misuse or threats, and enablement of regulatory IT compliance. Its security controls are based on industry standards and include full data encryption, hashing, masking, fine-grained access control, auditing, and strong user authentication. Thus, when working with Lynx Analytics, clients can deploy reliable data security solutions that require no changes to existing applications, saving both time and money in the process.
The company's clients operate in hyper-competitive markets, like telecommunications. There is a lot more consolidation, price competition, and revenue erosion from digital OTT players. Hence, if you are a communications service provider (CSP) today, you care about differentiating your services based on the value and customer experience. You want a speedy solution that you can plug-and-play, without the need for multiple 'digital transformation' projects just so you can deploy an innovative analytics solution.
"We want to become the number one communications analytics solution provider while exploring mobile device-adjacent verticals like IoT, fin-tech, security, health. All of these businesses share one common trait: massive amounts of rich customer data and a strong element of connectivity. That is the sweet spot for us," Gyorgy concludes.
This article has been extracted from Beyond Exclamation